This is a beta offering. By using this documentation, you are agreeing to abide by the terms of the JWP Beta Program Agreement.
JWP's OTT Apps give you an end-to-end solution that allows you to deliver rich video experiences to mobile devices and connected TV platforms. This end-to-end OTT Apps solution combines frontend apps with backend services.
The frontend apps are customizable native and web apps. The backend services include a suite of video delivery APIs:
App and player configurations
Video streaming and Live Channels
Analytics and Recommendations
Advertising and subscriptions
The following sections highlight supported OTT Apps features that will delight your viewers and enrich your brand.
---
For Viewers
JWP's OTT Apps provide your viewers with a compelling user experience, personalization, and social sharing. These features combine to encourage viewer engagement with your content.
OTT Anatomy
In an OTT App, viewers spend their time on one of four types of screens: Home, Library, Search, and Account. The Home, Library, and Search screens help your viewers to navigate through your media library. The Account screen helps your viewers manage their credentials, favorites, and payments.
Home
When an OTT App is first started, Home is the active screen. On this screen, viewers can use the menu bar or the shelves to casually browse your content. When designing your OTT Apps, you have control over the options in the menu bar and the content in the shelves.
Library
On the Library screen, your content is showcased in a grid. This arrangement enables your viewers to vertically browse your content. You can create up to five different Library screens. When you have a single library screen, we recommend naming it Library.
Search
The Search screen showcases content in a grid and includes a search box to easily locate specific content. When a viewer starts typing in the search box, type-ahead predictive logic is used to search the titles and descriptions of your content. This logic helps your viewers to discover and navigate your content.
On web and mobile, the search input is already presented in the menu bar to entice viewers to search. On connected TV devices, it is represented simply as the next-to-last menu item.
Account
The Account screen provides options for a viewer to manage account settings, app settings, and payments.
In native apps, this screen also includes links to legal (terms, privacy) and help (about, contact) pages. For desktop and mobile web, links to legal and help pages are included in the footer of the page.
Personalization
Your viewers want to experience a tailored viewing experience. Your OTT Apps provide powerful features to provide this experience: progress bars, a Continue Watching shelf, and a Favorites shelf.
Feature
Description
Progress Bars
A progress bar shows how much of a video a viewer has watched to-date. In all shelves in which a partially-watched video appears, the progress bar spans the bottom of the poster image.

If a viewer decides to continue watching a partially-watched video, the OTT App will resume playback from the point where the viewer last stopped watching the video.
Continue Watching
When the Continue Watching feature is enabled, a Continue Watching shelf is added to the Home screen under the Featured shelf. The Continue Watching shelf displays all videos that the viewer has partially-watched.

When paired with user registration, a viewer can access the Continue Watching shelf on your OTT Apps across all supported devices.

You can enable this feature when you start adding content to your OTT Apps.
Favorites shelf
When browsing through your content, a viewer can add a movie to a Favorites shelf by clicking the Favorite button on the landing screen of any movie. The Favorites shelf appears on the Home screen. When paired with user registration, a viewer can access the Favorites shelf in your OTT Apps across all supported devices.
Social Sharing
Another important viewer feature is social sharing. For your mobile users (Android, iOS, Web), your OTT Apps give your viewers the ability to share your content.
After clicking a video's Share button, the native share functionality of a device allows a viewer to engage their friends and social networks with your content.
---
For Your Brand
OTT Apps also have features that are tailored for your brand and business.
Branding
Your OTT Apps are extensions of your brand. As part of the app deployment process, you have the opportunity to customize aspects of your OTT Apps to fit your brand.
Monetization
Your OTT Apps can also be a source of revenue. OTT Apps support both advertising and subscription models.
Analytics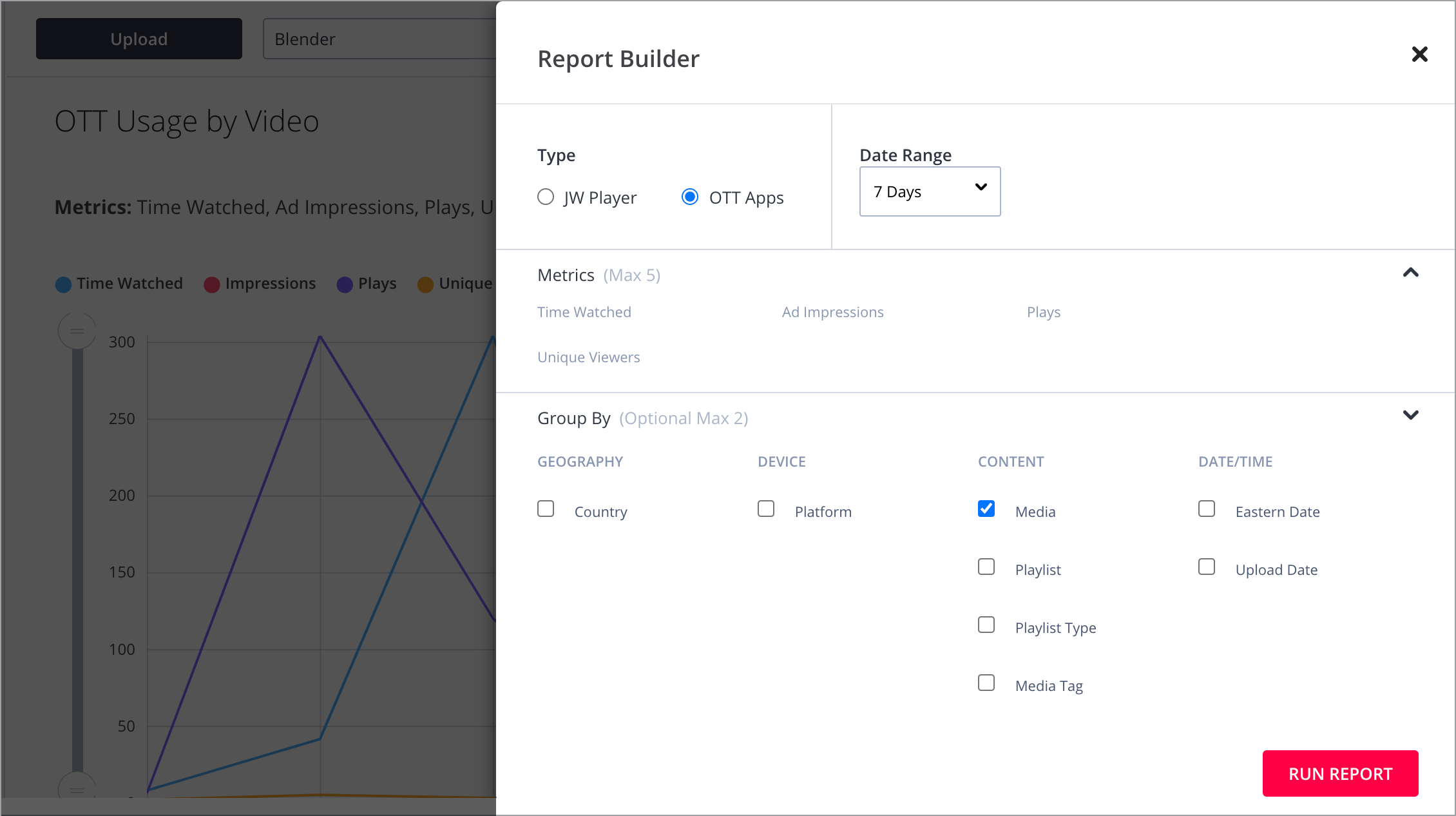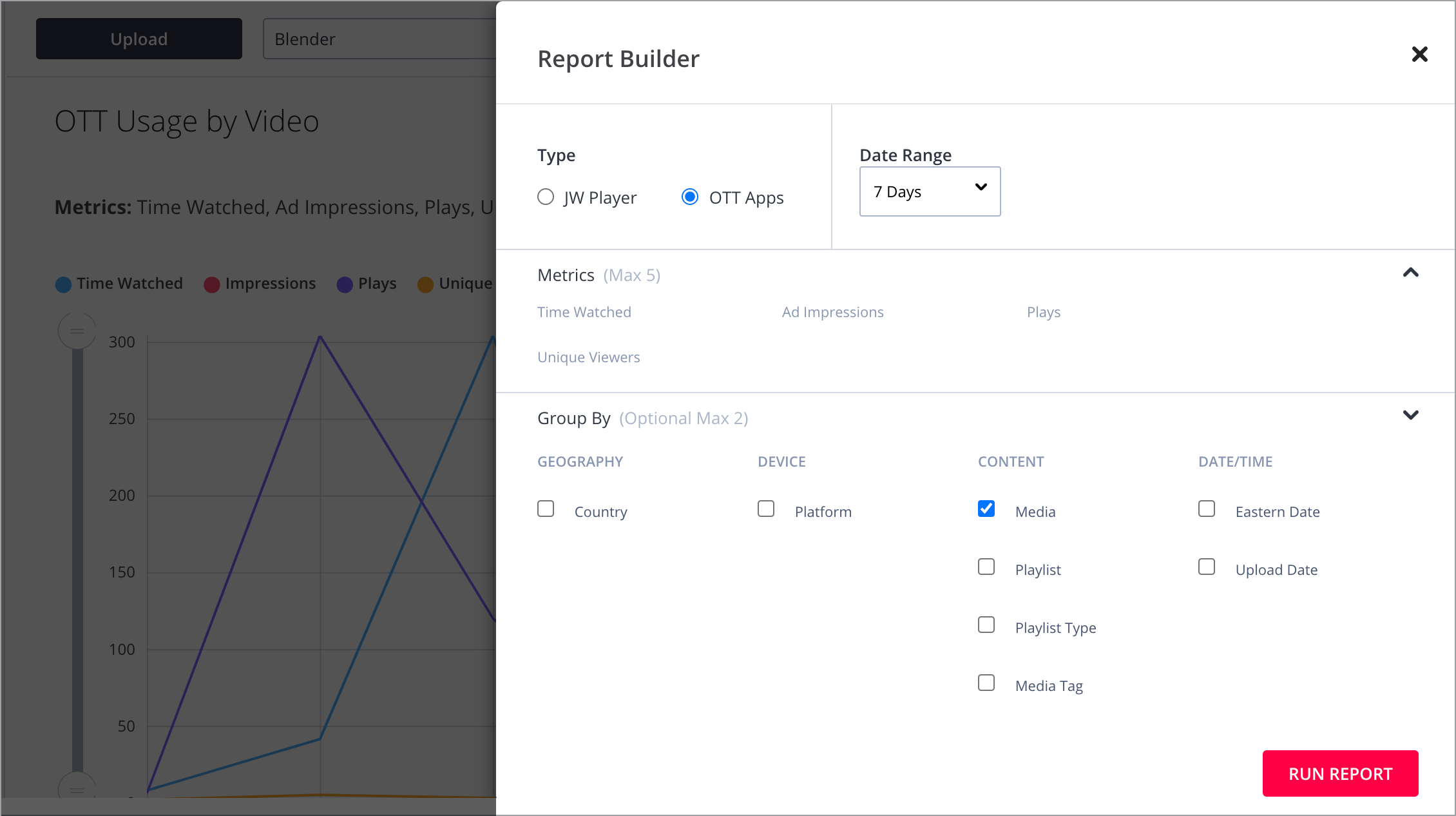 Setup of an OTT Apps analytics report
After your OTT Apps have been built and deployed, you can build custom reports that you can access from your JWP dashboard or by querying the Platform Management API v2. You can also schedule the frequency with which reports are generated and emailed to stakeholders.
---